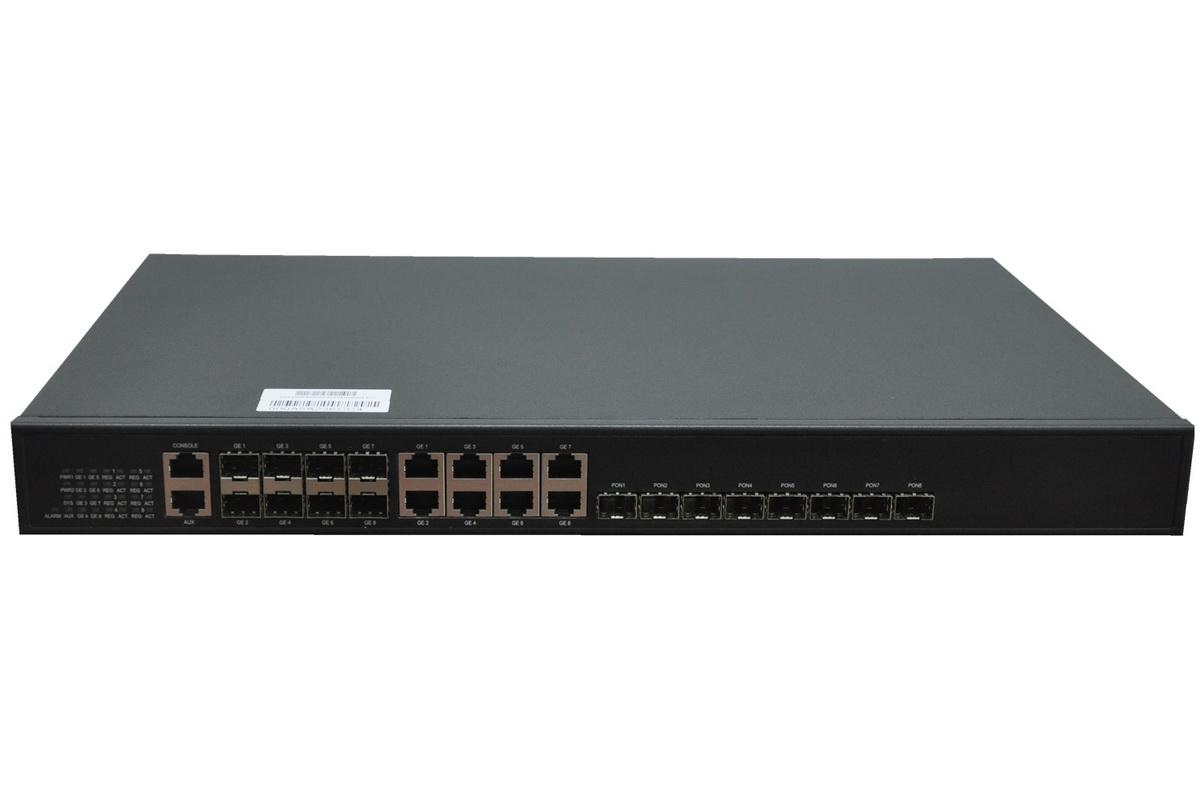 BCLOL-OLT-L3 Series ::
Overview ::
BCLOL-OLT-L3 Series OLT complies with IEEE802.3ah and PRC communication standard (YD/T 1475-2006), supports CTC2.1/3.0, automatically detects and is compatible with other manufacturers' ONUs, so P3600 series can be used in an efficient EPON solution. This series includes three models: BCLOL-OLT-L3-8P-8S, BCLOL-OLT-L3-12P-8S and BCLOL-OLT-L3-16P-8S.
BCLOL-OLT-L3 OLT supports the 1.25Gbps PON transmission rate, efficient bandwidth usage and Ethernet services, helping carriers to provide reliable services to their users.
Its coupling ratio, 1:64, and its support of different hybrid ONU networks minimize the carrier's investment.
BCLOL-OLT-L3, based on the edge-cutting technologies, is strong in functions. A few of its functions such as QoS guarantee, SLA and DBA can be easily listed out.
Key Features ::
EPON: complying with IEEE802.3ah, PRC communication standard (YD/T 1475-2006), and CTC2.1/3.0
System's capacity: supporting 8, 12, or 16 EPON systems and flexible configuration
Uplink interfaces: having 8 GE uplink ports (4 GE optical ports and 4 GE combo ports) and supporting 2 additional 10G uplink ports
Device size: 1U, 300mm high, and occupying small machine-room area
Green technology and environment protection: low power consumption to reduce the operation cost
Layer-3 function: supporting L3 routing functions
Protecting the bus optical fiber: supporting automatic link protection on the occurrence of optical fiber trouble
Power: supporting two AC power sources, two DC power sources or the AC/DC hybrid power source, adopting the modularization design, hot-swappable, EMC3, powerful environment adaptability
Technical Parameter ::



Attributes

BCLOL-OLT-L3-8P-8S

BCLOL-OLT-L3-12P-8S

BCLOL-OLT-L3-16P-8S

System's capacity

Maximum coupling ratio, 1:64

128G backplane bandwidth

Volume of the MAC table: 32K

Ports

PON

8 EPON ports

12 EPON ports

16 EPON ports

uplink

8 GE ports (4 GE optical ports and 4 GE TX/SFP ports)

optional 2 10G ports

EPON

A 1Gbps transmission rate with downlink and uplink symmetry

Average emitting power of the PON port: +2dbm to +7dbm

Light reception sensitivity of the PON port: no less than -30dBm

Security: ONU authentication mechanism

Standard

IEEE802.3ah

IEEE 802.1D, Spanning Tree

IEEE 802.1Q, VLAN

IEEE 802.1w, RSTP

IEEE 802.3ad, LACP

Ethernet – II

QoS

Backpressure flow control (half duplex)

IEEE 802.3x flow control (full duplex)

IEEE 802.1p, CoS

WR, SP and FIFO

ONU-based uplink/downlink rate limit

DBA and SLA

VLAN

Port-based VLAN

4K active VLANs

QinQ and flexible QinQ

IP routing

Static route, RIPv1/v2, OSPF, etc

Routing table: 12K

Multicast

IGMP v1/2/3

IGMP Snooping

Reliability

Unidirectional Link Detection (UDLD)

Optical path protection of EPON

Network security

MAC limit

Port isolation

Storm control

Flow-based ACL

Transmission data encryption on the PON interface

Management

CLI, SNMP and TELNET

TFTP and FTP

Chassis

442.5mm(W) x300mm(D) x 44mm(H)

Installation: A 19-inch cabinet

Weight: 2kg

Environment

Working condition: 0℃-55℃; 10%-85% non-condensing

Storage condition: -40℃-80℃; 5%-95% non-condensing

Power

Input voltage: AC90 to 264V,DC -36 to -72V

Dual power inputs, AC/DC power hybrid, power module's hot swap

Over-current protection and over-voltage protection